Purpose of the company
How and for whom does GWFF act?
Rightholders on the basis of original right
• Film producers
• Television producers
• Film authors, directors
• Producers of synchronized versions
• Videogram producers
• Actors
Rightholders on the basis of derivative right
•Distributors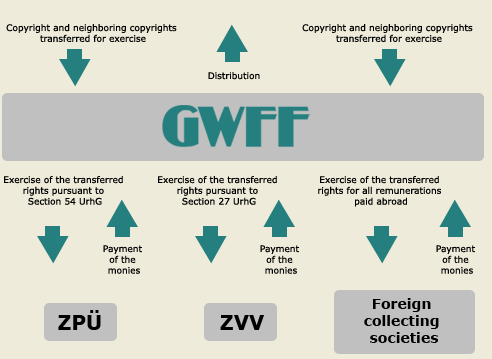 Contractual basis
The basis for any acting of GWFF is the conclusion of a collection agreement between GWFF and film and television producers and/or film authors, actors or producers of videoprograms.
In such collection agreement, the rightholder grants GWFF, for fiduciary exercise, the copyrights and neighboring rights in and to cinematographic works and/or audio-visual devices which are necessary for the assertion of the remuneration claim and which the rightholder, originally and/or derivatively, holds and will hold during the term of the agreement. The collection agreement enables GWFF to conclude the agreements and contracts which are necessary for collection and to collect for the rightholders the amounts due to them.
---
« Back